Event Info
| | |
| --- | --- |
| Buy-in | 540 CAD |
| Prize Pool | 427,945 CAD |
| Players | 817 |
Level Info
| | |
| --- | --- |
| Level | 32 |
| Blinds | 75,000 / 150,000 |
| Ante | 25,000 |
WPT National Montreal
Day 3 completed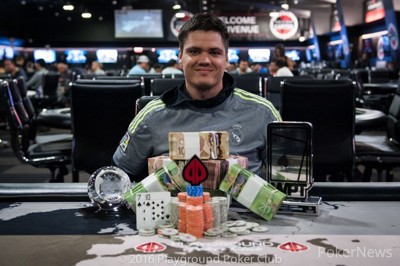 Nathan Hall is the winner of WPT National Montreal. He defeated Jeffrey Cormier heads up for the first prize and two trophies. Hall and Cormier made a dea and decided to each take home CAD $65,000 and then play for the extra CAD $5,794 and both the WPT National and the World Cup of Cards (WCOC) trophies.
The two then played for about three more hours before Hall finally bested Cormier. The final hand saw Hall come from behind to beat Cormier when the two got all in preflop. Hall hit a seven with his ten-seven to beat Cormier's queen-eight to take down the title and CAD $70,974 first place prize.
| Place | Name | Prize |
| --- | --- | --- |
| 1 | Nathan Hall | CAD $70,974 |
| 2 | Jeffrey Cormier | CAD $65,000 |
| 3 | Jason Mandanici-Turcot | CAD $36,000 |
| 4 | Alexander Villa | CAD $23,500 |
| 5 | Michael Mellor | CAD $18,000 |
| 6 | Senthuran Vijayaratnam | CAD $15,000 |
The final day of the $400,000 guaranteed World Poker Tour National Montreal started with 6 players from a field of 817.
The eventual runner-up Jeffrey Cormier was already at risk very early in the day against eventual fifth place finisher Michael Mellor. Cormier had ace-king all in against the jacks of Mellor. Quad fours on the board gave him the best hand and Cormier clapped and grabbed his phone to snap a photo of his good fortune.
That hand kept Cormier from being eliminated and it was Senthuran Vijayaratnam going out first. He came into the day with the short stack while he had been overall chip leader going into Day 2. Vijayaratnam got it all in for his tournament life ahead with ace-ten and lost to eventual third place finisher Jason Mandanici-Turcot when the latter made a full house with queen-jack.
Michael Mellor, who had suffered the quads on board hand, would go out in fifth place, taking home CAD $18,000. Mellor got all in again with Cormier holding ace-nine against Cormier with pocket sevens. Mellor failed to hit a pair while Cormier even rivered a set and Mellor made his exit.
Out in 4th was Alexander Villa who took home CAD $23,500 after he called Jeffrey Cormier's all in on a ten-high flop with pocket sevens. Cormier had ace-ten for top pair and stayed in the lead to eliminated Villa.
Cormier had a roller coaster day, but it was Hall who steadily built his stack all day and won a giant pot against Cormier with three players left. Cormier and Hall held the two big stacks and played a 7-million chip pot without a showdown where Cormier folded to a push all in on the river for 1.5 million into a 5.5 million pot.
While Cormier folded in the hand and Hall had a huge lead, it would be Jason Mandanici-Turcot going out in third place. He was short when he pushed with deuces and got called by Cormier with king-jack. A jack on the flop and king on the turn was all it took to send home Mandanici-Turcot in 3rd place.
Jeffrey Cormier started out heads up with the chip lead, and at one point had an almost five-to-one chip lead but then Hall doubled in consecutive hands. First, Hall flopped a set of kings and got all in on the turn with Cormier holding only a pair of sevens. The next hand, the two got all in and Cormier had deuces against the aces of Hall. Michael Hall doubled up again and that brought the two players stacks even. At that point, the two players took a break to discuss a deal. They decided to take CAD $65,000 a piece and play for first and an additional CAD $5,974.
You might have thought that would be the end of it, but the heads-up match lasted another two hours. Eventually, Hall doubled up twice and closed out the tournament not much later. Hall beat a field of 817 entries from the seven starting flights and took home the first place prize of CAD $70,794.
This was just the beginning of the World Cup of Cards tournament series at Playground Poker Club. PokerNews will be here throughout the festival, bringing you all the news, updates, and photos. Follow @PokerNews on Twitter for live updates, Periscope broadcasts, and more. Also, follow PokerNews on Facebook and Instagram.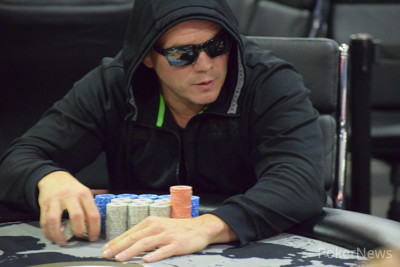 Nathan Hall open-shoved on the button and Jeffrey Cormier called all-in putting himself at risk.
Cormier:



Hall:


Cormier was in the lead and needed to hold to stay alive. The flop came



, pairing Hall's seven. Hall faded the turn and river —


and busted Cormier in second place.
| | | | | | |
| --- | --- | --- | --- | --- | --- |
| Nathan Hall | | | | 12,255,000 | 6,240,000 |
| Jeffrey Cormier | | | | Busted | |
Level:

32
Blinds:

75,000/150,000
Ante:

25,000
Jeffrey Cormier and Nathan Hall are heads up for the WPT National Montreal trophy and CAD $5,794 after a heads up deal that gave each player CAD $65,000.
The players are resuming play with two minutes left in level 31 and will play for the extra money and both the WPT National Trophy as well as the World Cup of Cards Trophy.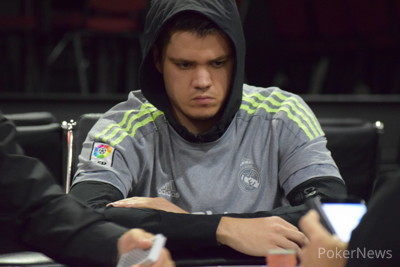 The players took another impromptu break to discuss a potential deal. Nathan Hall was in dire straits at an almost five-to-one chip deficit before he doubled up two hands in a row.
Hand #1: Jeffrey Cormier limped the button and Nathan Hall raised to 300,000.Cormier called.
The flop came



and both players checked. The turn was the

and Hall bet 280,000. Cormier moved all in and Hall called, putting himself at risk. However, he had a set of kings with


and was not at risk against the


of Cormier. Hall doubled up when the river came the

.
Hand #2: The two players got all in preflop on the next hand and Cormier was behind again holding


against the


of Hall. The board ran out and Hall earned another double up.
The players decided to take a break just short of the scheduled break to discuss a possible deal.
| | | | | | |
| --- | --- | --- | --- | --- | --- |
| Jeffrey Cormier | | | | 6,220,000 | -3,280,000 |
| Nathan Hall | | | | 6,015,000 | 3,315,000 |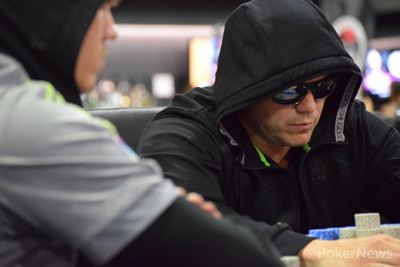 Level:

31
Blinds:

60,000/120,000
Ante:

20,000
| | | | | | |
| --- | --- | --- | --- | --- | --- |
| Jeffrey Cormier | | | | 9,500,000 | 710,000 |
| Nathan Hall | | | | 2,700,000 | -745,000 |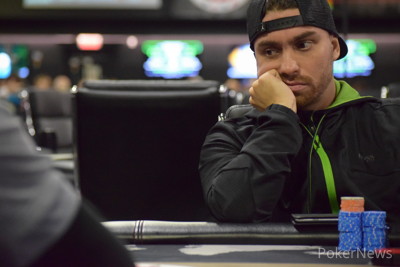 Jason Mandanici-Turcot opened to 200,000 from the button and Jeffrey Cormier raised all-in from the big blind. Mandanici-Turcot eventually called for less, putting himself at risk.
Mandanici-Turcot:



Cormier:


A classic race was underway. The dealer patted the table and dealt a





board. Cormier paired both of hi holdings and knocked out Mandanici-Turcot in third.
| | | | | | |
| --- | --- | --- | --- | --- | --- |
| Jeffrey Cormier | | | | 8,790,000 | 2,690,000 |
| Nathan Hall | | | | 3,445,000 | -705,000 |
| Jason Mandanici-Turcot | | | | Busted | |