Sponsored by:

Event #11: $1,500 Six-Handed No-Limit Hold'em
Day 2 completed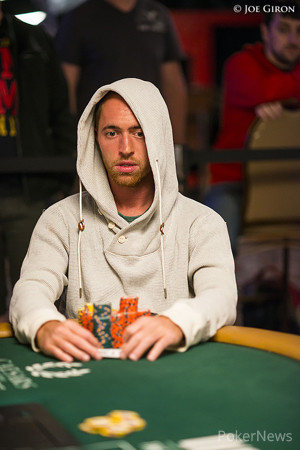 Day 2 of the $1,500 six-max started with 134 players still in contention, and by the end of ten hours of action packed poker there were ten players left.
Mike Sowers ended the day as the chip leader with 1,413,000. Justin Bonomo is a close second with 1,394,000 and Taylor Paur lies in third place with 1,120,000. They are the only three players who bagged up over a million chips.
The early action continued the theme from yesterday, fast and furious. By the end of level 14 there were just 66 players left. Among the early exits was Jason Mercier who got it all in preflop with


and was called by Luis Campelo holding


. Mercier looked fairly disgusted when the board ran out





to give Campelo a straight on the river. Olivier Busquet was coolered when he got it all in with


only to run in to Blake Whittington holding


.
Steven Hensley started the day as chip leader and kept the pedal to the metal, staying at the top of the leader board for most of the day. He wasn't always aware of exactly how many chips he had but that never bothered him. "I don't count chips, I just collect them." He couldn't hold on to them though and, just back from the dinner break, Hensley semi- bluffed his stack off to Mike Sowers who subsequently put them to good use.
Jason Wheeler edged in front during level 16 when he clashed with another big stack Vincent Moscati. They got into a preflop raising war and when Wheeler five-bet shoved Moscati made the call with


. Wheeler though had it with his


and the cards ran out





. There was a scare on the flop for Wheeler, but redemption on the turn. Wheeler was also unable to hold on to his chips amidst constant action and he would fall in 19th place.
Action slowed right down when there were 57 players left at around the end of level 15, and two hours later at the dinner break there would still be 36 players looking to make it to the end of the day.
After the one hour break it was Justin Bonomo who sprang into action becoming the first player to get his hands on over a million chips. Bonomo made a huge call with


against the


of Alejandro Jauregui and saw the board run out





to bust Jauregui. A couple of hands later Bonomo found a pair of kings to bust another player and increase his lead.
Mike Sowers was the next player to break the million barrier putting Hensley's chips to good use to bust Josh Rotenberg and then Jason Wheeler.
With the players down to 18 there was a redraw and the action picked up again to see a flurry of bust outs. Hans Bosman fell in 18th, Abraham Korotki in 17th and in a double bust out Lucas Fridriksson went in 16th with Ricky Butts the 15th place finisher. William Perpich and Corey Burbick were next to go before another redraw was made for the last two tables.
In the penultimate level of the night it was Diego Dubcovsky who fell in 12th place when his


was beaten by Sebastian Pauli making a straight with his


. Ryan Hemmel exited in 11th all in preflop with


versus the


of Paur. An ace on the flop for Paur was good enough to seal the deal.
No more eliminations in the final level meant there would be no final table of six decided on the day so the remaining players return tomorrow.
Action continues at 1 p.m. tomorrow as the final 10 battle it out for the first place prize of $449,980 the Gold Bracelet and the bragging rights of being the first six-max champion of WSOP 2014. The PokerNews Live reporting team will keep you right up to date including hand for hand action from the final table.
Stay tuned for the recap.
| | | | | | |
| --- | --- | --- | --- | --- | --- |
| Mike Sowers | | | | 1,413,000 | |
| Justin Bonomo | | | | 1,294,000 | -86,000 |
| Taylor Paur | | | | 1,120,000 | 20,000 |
| Lance Harris | | | | 826,000 | 236,000 |
| Niel Mittelman | | | | 671,000 | 286,000 |
| Daniel Strelitz | | | | 528,000 | -212,000 |
| Sebastian Pauli | | | | 523,000 | -197,000 |
| Viet Vo | | | | 322,000 | 222,000 |
| Frank Debus | | | | 279,000 | -181,000 |
| Todd Anderson | | | | 222,000 | -78,000 |
Frank Debus open shoved for 230,000 and Mike Sowers had the chips to look him up so he did.
Sowers turned over


and Debus was the player at risk with


.
The dealer put out a board of





.
Debus got his much needed double up towards the end of play.
Mike Sowers has been involved with Taylor Paur in a few pots recently and it is Sower who is coming out on top.
In one hand Sowers had top pair with a king and managed ti extract value on the river.
In another hand that went to showdown Sowers started with


and ended up making a queen high flush, again extracting a good amount of value from Paur as the chips flowed in his direction.
Level:

21
Blinds:

6,000/12,000
Ante:

2,000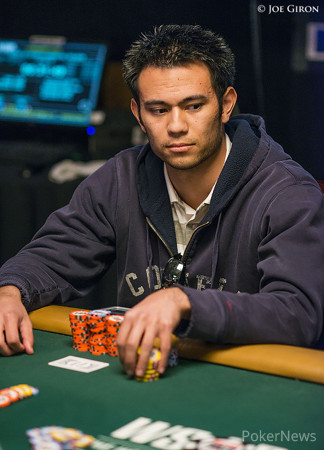 Ryan Hemmel has been sent home in 11th place.
He shipped over a 20k open from Taylor Paur for a total of 302k and Paur looked him up with


. Hemmel was ahead with


but his dreams were dashed when the flop rolled out



.
The

turn and

river did him no good either.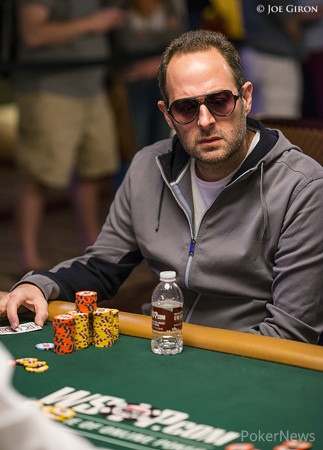 Sebastian Pauli raised to 23,000 and got a call from Diego Dubcovsky in the big blind who was short on chips. The flop was



and both players checked.
The turn card saw the

and now Dubcovsky led for 11,000. Pauli made the call and they went to a river

. Dubcovsky led again for 21,000 and called it off when Pauli put him all in.
Pauli had a straight


which was good enough to beat the


of Dubcovsky to send him to the rail.
Table 440
| Seat | Player |
| --- | --- |
| 1 | Taylor Paur |
| 2 | Mike Sowers |
| 3 | Ryan Hemmel |
| 4 | Frank Debus |
| 5 | Niel Mittelman |
| 6 | Todd Anderson |
Table 445
| Seat | Player |
| --- | --- |
| 1 | Justin Bonomo |
| 2 | Sebastian Pauli |
| 3 | Lance Harris |
| 4 | Viet Vo |
| 5 | Daniel Strelitz |
| 6 | Diego Dubcovsky |
| | | | | | |
| --- | --- | --- | --- | --- | --- |
| Justin Bonomo | | | | 1,380,000 | 570,000 |
| Mike Sowers | | | | 1,200,000 | 100,000 |
| Taylor Paur | | | | 900,000 | 385,000 |
| Daniel Strelitz | | | | 740,000 | 120,000 |
| Lance Harris | | | | 590,000 | -80,000 |
| Sebastian Pauli | | | | 570,000 | 215,000 |
| Niel Mittelman | | | | 385,000 | -81,000 |
| Ryan Hemmel | | | | 375,000 | -15,000 |
| Todd Anderson | | | | 300,000 | 83,000 |
| Frank Debus | | | | 275,000 | -227,000 |
| Diego Dubcovsky | | | | 150,000 | -165,000 |
| Viet Vo | | | | 100,000 | -10,000 |